Creative strategy, action and results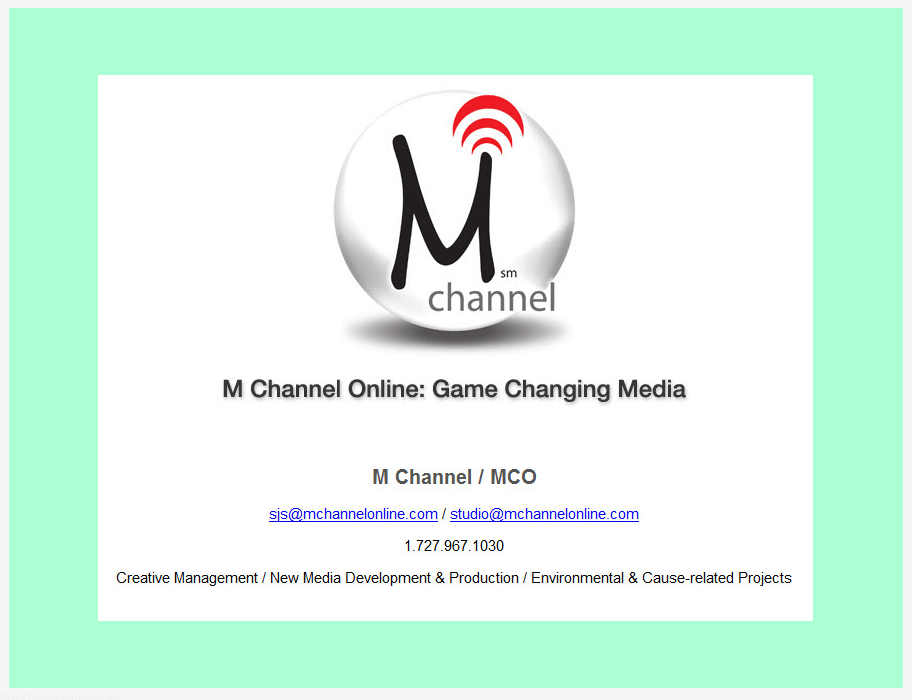 M Channel Online was originally established after Steven Schmidt left his position as President of Aspen Interactive, managing digital operations of the largest privately held marketing services company in the US.
Today, M Channel focuses on media, mobile & marketing. Our creative and consulting services assist start-ups, visionary projects and companies, environmental and non-profit ventures.
M Channel delivers forward-looking strategy, action and results.
M Channel current projects include:
GreenPolicy360, an online "eco Operating System" (www.greenpolicy360.net) built on a MediaWiki platform. The core site has close to  six million page views as of 2016 and features extensive global GreenLinks networking.
GreenPolicy provides a deep database of "green best practices",  extending a 'best practice' concept via the distributive web. GreenPolicy delivers a valuable source of successful green work as models and templates. These initiatives, proposals, resolutions, laws, ordinances, and 'how to' data are aggregated and organized online via keywords, categories, topics and locations. Green best practices are easily accessed and downloaded via GreenPolicy's search and share functions.
Additional websites we manage include:
Political Consulting / Educational Policy:
Beginning in the early 1990's in the environmental arena, education and political reform, our work has ranged from new media ventures to presidential campaigns. Steve Schmidt was a senior advisor to California Governor Jerry Brown in the 1992 presidential campaign and developed the platform with the Governor; Steve went on to become the principal drafter of the founding platform of the US Green Party;  from 1995-1999, Steve served on the New Mexico State Board of Education, a constitutional position responsible for policy/management and fiduciary oversight of K-12 education.
Creative Ventures:
The M Channel team develops and produces creative entertainment. CybeRacers (www.cyberacers.com) is a recent 'New Media' series with a story of natural disasters, science gone bad, and "Dangerous Work, Low Pay" heroism.
Clients and associates over the years are movers in many eco/environmental fields. The Bioneers organization, for whom we recently prepared a Strategic Plan for international and online expansion, are a preeminent ecological network that just celebrated its 25th annual Conference  (

www.bioneers.org

).
M Channel is ready to assist you in making your next big dream a reality.
Call us at 1.727.967.1030 or email us at studio@mchannelonline.com
○ ○ ○ ○ ○ ○ ○ ○ ○ ○ ○ ○ ○ ○ ○ ○ ○ ○ ○ ○ ○ ○ ○ ○ ○ ○ ○ ○